Well my friends, the weeks are flying by.  I meant to get an update each week over the last few weeks (ok month), but it didn't quite come to fruition.  (This post has been in draft form for weeks!) So, here's a few weeks all rolled up into one.
Not much has changed, really!  I kind of knew this would happen – once we had our Anatomy Scan and we knew everything was growing on track, I had a feeling that it would turn into more of a waiting game than not.  Baby Leist is on my mind all day every day, but now that I know he's developing just like expected, I feel a little less anxious about it.  I think also now that I can feel his kicks regularly, he's always letting me know that he's in there and he's doing good.
Plus, I think it might have to do with a lot of fun activities going on: weddings, house updates and some post-season Orioles excitement had me occupied over the last month. And oh yeah, work too!
Here's me at 15 weeks on the left, and wowza, 25 on the right!  Me and little man still have a good 3 months to go … I can't even begin to think what that belly will look like at 35 weeks!  Halloween weekend marks the end of the 2nd trimester, so we're getting there!
Getting ready for Baby
The nursery is currently a, er, work in progress to say the least.

Those are the old living room curtains on the floor. (side note: Is there anything you can do with them old curtains?  It's so much high quality fabric, but it's not our style so we're not keeping them. I guess we'll just throw them out?  I feel like I should make play clothes out of them a la Maria von Trapp.)  Like most of the other rooms were painted when we moved in, the room is a very light peach but isn't going to stay that way.  We haven't quite nailed down exactly what we want to do, but I want it to be something soothing and cute for a little baby, but not too severely "little boy".  And educational, haha. We'll figure out the exact color and decor scheme in the coming weeks!
Fun milestones
Just after I hit week 21, Jeff got to feel his first belly kicks.  I can't tell exactly how Baby Leist is situated in his bedwomb, but I get lots of kicks in the space below my belly button and just above my pubic bone.  One evening he was kicking up a storm so I quickly got Jeff to come over and put his hand right where I felt him kicking and he was able to feel his first baby kicks!  Oh it was just the cutest thing ever.
House Updates

We've been working on the house quite a bit!  We ordered furniture for the living room which was delivered last week, and the dining room, master bedroom furniture should be delivered in the next few weeks. I'm very excited for my dining room furniture, but I'm also REALLY excited for our new mattress.  I haven't been sleeping great lately. I tend to wake up with my hips and shoulders aching and hurting from sleeping on my side.  I'm hoping the new mattress will alleviate some of my hip pain that I get sleeping on my side!  I also went out and got a snoogle. The snoogle has been great and has allowed me to sleep halfway on my stomach.  Plus, I snore when I end up on my back and it wakes both Jeff and me up, so staying put on my side is best for many reasons.
I have another half-written post with a house tour, so stay tuned!
Childbirth class
We also signed up for our childbirth class and tour of the labor and delivery area of the hospital where I'll be delivering. I think I generally understand what to expect during childbirth, but I figured better to be overly prepared than under prepared.  Hopefully, I'll learn something new. I mean, I took an "Education for Responsible Parenting" class in high school, so this is all old news to me.
But, one of the options we have at our hospital is to book a "Deluxe Maternity Suite."  I can't decide if this sounds like a fantastic idea or a horrible waste of money.  From their website:
Be Surrounded by Tranquil Luxury
Our two-room, two-bathroom deluxe suites provide lovely, truly intimate settings in which to bond with your newborn. Luxurious amenities cater to the needs of mom, baby and family members.
Standard amenities in our Deluxe Maternity Suites include:
"At Your Request" Room Dining Service: Order what you want from from 6:30 a.m. to 6:30 p.m. Meals are cooked-to-order and delivered to your room for you and your significant other.
Separate guest suite with sofa bed
Two bathrooms
Flat screen television and Wi-Fi in both the patient room and adjacent guest room
In-room refrigerator stocked with complimentary chilled juices and bottled water
Healthy snack basket
Fine linens, plush towels and robes
Rocking chair
Boutique toiletries
Free parking
Sounds lovely, but I mean, am I going to have any time or interest in the free wi-fi and the snack basket?  Or is that really more for everyone else? 

Other News
I went in for my glucose tolerance test to check for gestational diabetes last week.  It wasn't nearly as bad as I was afraid.  The drink itself was fine – kind of like Hi-C, but the bad part was the miserable sugar crash from drinking 50g of sugar on an empty stomach.  I ended up with a terrible headache and no surprise, ended up in tears later in the day.  Proof once again that nutrition affects more than just how you look!  Luckily I passed, so no gestational diabetes here.
I wake up most mornings totally forgetting that I'm pregnant.  Other than things such as touching my toes and putting on shoes getting a little more difficult every day, I don't feel terribly unlike myself.  I'm sure that will change in the coming weeks so try not to laugh too hard
Coming up
I'm desperately trying to get ahead on the holidays! I already ordered personalized Christmas cards from Minted plus a new address stamp from Etsy.  I just love stationery and never miss an opportunity to send a handwritten card or thank you note.   We picked these cards because it reminded us of new wooded back yard and our cute little deer friends that come to visit us!  I post videos of them on my instagram from time to time.
I don't think the neighbors like the deer as much as we do, but I think they're very sweet.  I don't have any landscaping that I care about them eating, so that probably makes a big difference. I can't wait until Baby Leist is here and we can watch the deer from the window.
And here's the address stamp I ordered! Obviously that's not my name (or address) but that's the design I selected.  Makes sending cards just a hair easier.  Check it out here on Etsy.  I love the fonts.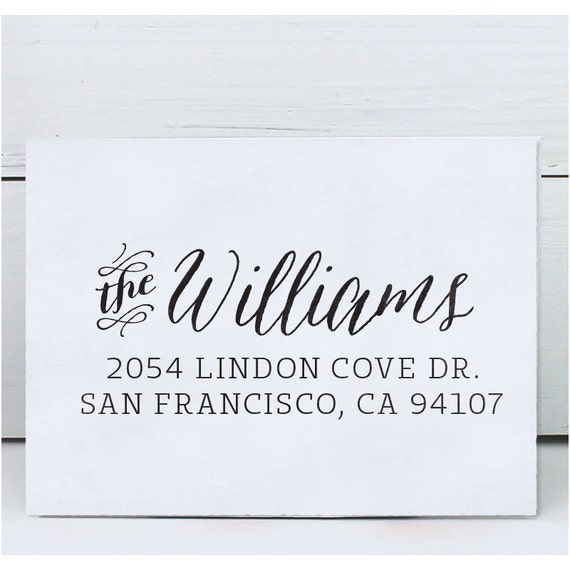 OK that's about it for this week!
Moms:
1) Deluxe Suite or no Deluxe Suite?
2) Any tips for heading into the third trimester?
{ 0 comments }